Codex Orféo – a shocking and uplifting personal vision of the Holocaust and its unexpectedly ecological aftermath
New novel centers around two brothers in a unique crisis: profound meditation on the future of life on Earth
Heidelberg | New York, 4 July 2016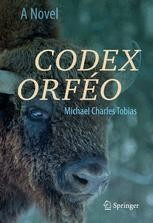 From world renowned author, ecologist and explorer Michael Charles Tobias comes a new and shattering novel that contemplates and internalizes the most appalling, inexplicable tragedy in human history: the Holocaust. Tobias does so in a manner no other writer has ever envisioned.

Codex Orféo is a deeply provocative thriller that leads its two central characters from the United Nations Rio+20 Summit of 2012, into forests of Belarus and Poland during the worst winter in recorded history. Their contemporary odyssey is surreptitiously followed by intelligence agencies from a myriad of countries. The gripping context for so much intrigue: one of the most explosive political and ecological revelations of the Holocaust happening now, in the 21st century.
Tobias weaves a taut and terrifying story of a "lost village" and one individual in particular who disappeared upon Germany's invasion of Poland on September 1, 1939. Along the way, Tobias' novel compels us to consider such haunting questions as: "What are the ethical limits of science?" and "Are we our brother's keeper?"

A survival epic, Tobias's tale brings to life a constellation of richly nuanced characters whose unprecedented circumstances speak with extraordinary resonance, melancholy and timeliness; all with a biochemical ticking clock, at the heart of an unrelenting, mind-altering drama from the frontlines of scientific discovery.

Michael Charles Tobias, novelist, philosopher, explorer, global ecologist and filmmaker has produced a prolific body of work, over 200 books and films – fiction and non-fiction – that have been read, translated and/or broadcast around the world. His research on every continent and in nearly 100 countries embodies fieldwork in comparative ecological disciplines, anthropology, and the history of science and ideas.

Michael Charles Tobias
Codex Orféo
Springer (2016) 282 p. 13 color photographs by the author.
Hardcover ISBN 978-3-319-30621-6
eBook ISBN 978-3-319-30622-3
Michael Tobias is available for interviews. Review copies and pictures from the book are available immediately for journalists and book reviewers, both online and in print.
Joan Robinson | Springer | Communications
tel +49 6221 487 8130 | joan.robinson@springer.com