Newly discovered and unpublished collection presents original philosophy of Ludwig Wittgenstein
Ludwig Wittgenstein: Dictating Philosophy To Francis Skinner – The Wittgenstein-Skinner Manuscripts
Heidelberg | London, 14 Dezemer 2020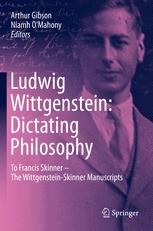 This collection of previously unpublished manuscripts was posted off by Wittgenstein to be considered for publication during World War 2, in October 1941, however, remained hidden for over two generations. There are many competing interpretations of Wittgenstein's philosophy, but his work and its impact have been felt in the arts, humanities and social sciences.
The book further includes key explanations by the editors of the origin and background of these previously unknown manuscripts. It investigates how Wittgenstein's philosophical thought-processes are revealed in his dictation to, as well as his editing and revision with Francis Skinner, in the latter's role of amanuensis. The book displays a considerable wealth and variety of Wittgenstein's fundamental experiments in philosophy across a wide array of subjects that include the mind, pure and applied mathematics, metaphysics, the identities of ordinary and creative language, as well as intractable problems in logic and life. He also periodically engages with the work of Newton, Fermat, Russell and others. The book shows Wittgenstein strongly battling against the limits of understanding and the bewitchment of institutional and linguistic customs.
The reader is drawn in by Wittgenstein as he urges his audience to join him in his struggles to equip them with skills, so that they can embark on devising new pathways beyond confusion.
About the editors
Arthur Gibson graduated in Philosophy at Cambridge University, acted as Director of Studies for a variety of its Colleges; has been a Member of its Council of Senate, and was a Proctor of the University; Arthur is a Research Member in the University's Department of Pure Mathematics & Mathematical Statistics, with interests in Foundations of Mathematics, Mathematical Philosophy, Wittgenstein, Metaphysics, Quantum Computing, infinity, AI, and Metaphysics of Cosmology.
Upon the rediscovery of the collection of manuscripts, Professor Gibson helped identify it, and was invited to research, prepare and edit the Archive to appear as this book, encouraged by Trinity College Cambridge and The Mathematical Association. Niamh O'Mahony, former Producer and writer at the BBC Russian Service having researched at Trinity College Cambridge, joined Arthur in co-editing and bringing this book to publication.
About the book
Arthur Gibson & Niamh Ann O'Mahony (Eds.)
Ludwig Wittgenstein: Dictating Philosophy
2020, 479 p. 107 b/w illus., 29 illus. in color
Hardcover 48,14€ | £39.99 | $54.99
ISBN 978-3-030-36087-0
eISBN 978-3-030-36086-3
Further information and statements from editor and contributor available upon request.

Arthur Gibson is available for interviews.
Review copy can be sent to upon request.

For the full collection of statements, booking an interview or for requesting a review copy, contact felicitas.behrendt@springer.com