SN Comprehensive Clinical Medicine publishes first articles
Content in new highly inclusive, broad appeal journal is now available
New York | Heidelberg, 7 November 2018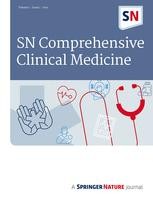 The first articles have published online in a new, SN-branded peer review journal that encompasses all aspects of clinical medicine. SN Comprehensive Clinical Medicine was launched in July 2018 under the leadership of Editor-in Chief, Dr. Massoud Mahmoudi, Clinical Professor in the Department of Medicine at the University of California, San Francisco, in the U.S. Articles are currently accessible online; the first full issue will be published online in January 2019.
Typically, medical journals carve out a niche area of focus, and authors may find papers — which are otherwise high quality — rejected for being out of scope of a target journal. As a result, demand for a clinical medicine journal with a wide scope and interdisciplinary focus has grown. SN Comprehensive Clinical Medicine was founded in response to this need, and welcomes submissions from a wide range of medical fields, from basic and translational research, and clinical studies and methods, to healthcare delivery and curriculum development. The journal publishes original research, reviews, brief communications, and case reports.
"Many medical journals have been founded in the past decade, some of which are from newly-formed publishers with little publishing heritage. What makes SN Comprehensive Clinical Medicine unique and superior to other clinical medicine journals in the market is the fact that it is a new concept that has emerged from the traditional publishers, Springer and Nature. This journal will be a home for all academicians who are completing advanced research projects and clinicians who desire to share their unique clinical cases and original research," said Mahmoudi.
SN Comprehensive Clinical Medicine is also helmed by section editors covering the sub-fields of imaging, medicine, and surgery. These editors are clinical experts in their respective fields, and manage papers submitted in each corresponding category. The journal is further backed by a large editorial board of clinicians whose professional focus reflects the variety of clinical medicine subjects.
Katherine Pfaff, Managing Editor of SN Comprehensive Clinical Medicine said: "We are proud to work closely with an editorial board of international experts who cover a wide range of clinical medicine. With this knowledgeable team, we look forward to publishing articles which address all areas of clinical medicine, and to assuring the content is available for clinicians improving care, and researchers advancing discovery all over the world."
All published journal articles will be free to access during the first two years of publication. Authors can choose whether to publish their work at no cost — accessible to readers via subscription — or to publish as permanently open access — through an article publishing charge, or APC.

About


Springer is a leading global scientific, technical and medical portfolio, providing researchers in academia, scientific institutions and corporate R&D departments with quality content through innovative information, products and services. Springer has one of the strongest STM and HSS eBook collections and archives, as well as a comprehensive range of hybrid and open access journals. Springer is part of Springer Nature, a global publisher that serves and supports the research community. Springer Nature aims to advance discovery by publishing robust and insightful science, supporting the development of new areas of research and making ideas and knowledge accessible around the world. As part of Springer Nature, Springer sits alongside other trusted brands like Nature Research, BMC and Palgrave Macmillan. Visit www.springer.com and follow @SpringerNature.

Elizabeth Hawkins | Springer Nature | Communications
tel +49 6221 487 8130 | elizabeth.hawkins@springernature.com