Springer and Labster partner to bring students in Germany cutting-edge science education materials
Copenhagen | Heidelberg, 26 November 2018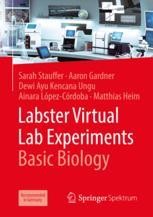 Today, Springer and Labster announce a partnership that connects traditional textbook material with computer-animated simulations. This collaboration will help to shape the future of science education by changing the way students learn science. The enhanced textbook material is available via Springer's content platform SpringerLink or through purchasing a specific textbook.


With a shared vision to improve science education globally, Springer and Labster have created four concise English-language books for biology in higher education. This textbook format will provide new and improved learning material on the most relevant topics to help students prepare for their exams. The books are designed specifically for the German university curriculum.


Each book chapter covers the basic concepts of a topic, and is followed by a Labster simulation that students can use to reinforce and test their knowledge. Readers are also able to practise the techniques that they have learned with a hands-on lab experience which is simulated through virtual labs using advanced equipment and includes multiple choice questions and 3D animations.


"The partnership between Labster and Springer will allow students to reinforce and apply what they have learned through a combination of Springer's resources and Labster's immersive virtual labs. Our virtual labs give students a unique opportunity to step into a laboratory and experiment with cutting-edge equipment. They can explore, test their knowledge, watch 3D animations, do experiments, make mistakes and try again, all within a safe learning environment. We believe that this is the future of science education as it helps students understand the material more effectively, and at the same time engages them on a whole new level," said Mads Bonde, Labster Co-Founder and CEO.


This collaboration will begin with the launch of the first two Labster-authored books which cover theory in basic genetics and basic biology. In spring 2019, two more textbooks will follow covering theory in basic biochemistry and genetics of human diseases.


Juliane Ritt, Executive Vice President, German Language Science Publishing, Springer: "Today's students use a greater than ever variety of resources and tools to succeed in their studies; I am very excited about our pilot agreement with Labster, as I am convinced that the smart combination of Springer's textbook content with Labster's state-of-the art virtual lab creates an extremely effective and powerful learning environment. This cooperation fits perfectly well to our overall strategy to make learning for students more effective and satisfying by combining the advantages of various digital media with the benefits of traditional textbook content."


Image: Book cover: Labster Virtual Lab Experiments: Basic Biology | © Springer