Springer partners with the Institute of Earth Environment, Chinese Academy of Sciences
New journal focusing on aerosol science expands Springer's Chinese research collection
Beijing | Heidelberg, 10 January 2017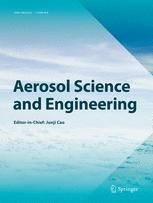 Springer, one of the leading publishers in the fields of science, technology and medicine, will launch the new journalof the Institute of Earth Environment, Chinese Academy of Sciences (IEECAS) – Aerosol Science and Engineering (ASE) – as of January 2017. It will be published quarterly by Springer both electronically and in print. The journal joins Springer's Chinese Library of Science, a collection of more than 90 high-quality Chinese research journals.
Aerosol science deals with the study of airborne particles and comprises areas such as climate and atmospheric modeling, the development of inhaled therapies as well as air pollution, including fog and haze. The new journal provides a forum for high-quality research papers in the field of aerosol science and engineering from all over the world. It broadly encompasses various traditional aerosol-related topics and emphasizes the application of aerosol technology to environmental issues. It encourages submissions from all branches including atmospheric sciences, environmental science and engineering, environmental analysis, physical chemistry and pollution and remediation. All papers are subject to peer review and will be published online on SpringerLink.
Professor Junji Cao, Editor-in-Chief of Aerosol Science and Engineering, said, "We are very pleased to collaborate with Springer in publishing this journal. We believe that the partnership will improve communication in the community of aerosol research and enhance the visibility of the journal internationally. With the support of Springer's international publishing platform, ASE will become a new journal targeting both aerosol science and engineering, sharing information, knowledge and research methods as well as feasible solutions for urgent world challenges like urban air pollution, regional haze as well as global warming. Our goal is to develop Aerosol Science and Engineering into a world-leading academic journal in its field."
Dr. Lu Ye, Editorial Director for Physical Sciences and Engineering at Springer China, said, "Springer has a wide range of journals in climate and environmental research and we are very excited that the Institute of Earth Environment, Chinese Academy of Sciences has chosen to work with us. Aerosol Science and Engineering will add high value to our earth and environmental journal portfolio. We will do our best to develop the journal together with IEECAS."
Established in 1985, the Institute of Earth Environment, Chinese Academy of Sciences (www.ieecas.cn) aims to provide fundamental, strategic and prospective scientific support for promoting sustainable socioeconomic development in China. IEECAS is the leading institute for aerosol research in China and has a worldwide reputation for high-quality research.
Springer is part of Springer Nature, a leading global research, educational and professional publisher, home to an array of respected and trusted brands providing quality content through a range of innovative products and services. Springer Nature is the world's largest academic book publisher, publisher of the world's most influential journals and a pioneer in the field of open research. The company numbers almost 13,000 staff in over 50 countries. Springer Nature was formed in 2015 through the merger of Nature Publishing Group, Palgrave Macmillan, Macmillan Education and Springer Science+Business Media. Visit www.springernature.com and follow @SpringerNature.
About the journal Aerosol Science and Engineering

ISSN: 2510-375X (print version)

ISSN: 2510-3768 (electronic version)

About the Institute of Earth Environment, Chinese Academy of Sciences (IEECAS)