Springer to launch the Journal of Cognitive Enhancement
New journal will explore the theory and practice of improving human "brainpower"
Heidelberg | New York, 1 June 2016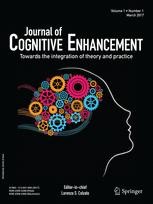 Springer is launching the Journal of Cognitive Enhancement: Towards the integration of theory and practice, a new interdisciplinary psychology publication. The journal will contribute to a higher understanding of research aimed at enhancing human performance and creative potential. Submissions will be accepted in 2016, with the first issue to be published in March 2017. Lorenza S. Colzato of Leiden University in The Netherlands is the editor-in-chief.
The Journal of Cognitive Enhancement will pursue a theory-driven approach that aims to understand and explain how social cognitive processes, such as human perception, attention, memory, cognitive control, and action in healthy individuals, may be enhanced. The methods to achieve this include meditation, video games, smart drugs, food supplements, nutrition, brain stimulation, neurofeedback, physical exercise, music and cognitive training.
Research on cognitive enhancement is becoming a hot topic, given that the recent economic problems of the welfare system, in both Eastern and Western societies, have boosted the interest in "enhancing" procedures and activities that will make welfare societally more affordable. For instance, cognitive enhancement can help to delay cognitive decline in the elderly, which would extend the time people can live autonomously and, thus, reduce the welfare costs for the time thereafter.
"In my early professional years," said Dr. Colzato, "I was asking the question: How can I make the memory of this person function better? Now with our new Journal of Cognitive Enhancement, I phrase the question this way: How can I provide my readers with the scientific tools to take their cognitive enhancement in their own hands, to be the architect of their own life?"
Lilith Dorko, Cognitive Psychology Editor at Springer, said, "This is a very exciting time in the rapidly growing field of cognitive enhancement. Dr. Colzato and I saw a real need for the academic community to have a home for their research, asking and answering the questions fundamental to the psychological wellbeing of modern humans. I'm so proud to be partnering with Dr. Colzato on this important work."
Journal of Cognitive Enhancement –
Towards the integration of theory and practice
ISSN 2509-3290 (print)
ISSN 2509-3304 (electronic)
Springer is part of Springer Nature, a leading global research, educational and professional publisher, home to an array of respected and trusted brands providing quality content through a range of innovative products and services. Springer Nature is the world's largest academic book publisher, publisher of the world's most influential journals and a pioneer in the field of open research. The company numbers almost 13,000 staff in over 50 countries. Springer Nature was formed in 2015 through the merger of Nature Publishing Group, Palgrave Macmillan, Macmillan Education and Springer Science+Business Media. Find out more: www.springernature.com and follow @SpringerNature.