The delights of dirt
Celebrating Soil is a new richly-illustrated book that takes the reader on a global treasure hunt to unearth the infinite variety beneath our feet.
Heidelberg | New York, 13 December 2016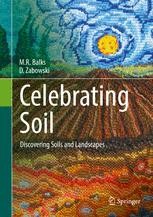 Soil can be beautiful, odiferous, slimy or sublime. It provides simple pleasures, such as its rich earthy scent after warm rain or the feeling of crumbling it between the fingers. The pace at which it forms is imperceptibly slow by human standards but the rewards of getting to know it can be life-enhancing.
Beneath a magnificent view, hidden soil provides water, nutrients, oxygen and anchorage for plants, animals and humans to grow. All terrestrial life ultimately derives its sustenance from the soil. If we pause in our busy lives, we can celebrate the myriad of products of its harvest: our forests for fuel and shelter, food and medicines for our survival and flowers to lift our spirits.
Megan Balks says, "Like snowflakes, no two soils are the same. Soils arguably comprise the most complex ecosystems on Earth. They are critical to the global cycling of elements that maintain our oceans and landscapes."
In Celebrating Soil, she and co-author Darlene Zabowski aim to give a positive message. They share their sense of awe for the amazing variety of soils from the Arctic to the Antarctic. They relate some of the myths and legends inspired by this precious resource. They also review some of the rapidly-developing knowledge of how to manage and care for it.
The type of degradation first observed in Greece by Plato 2400 years ago only began in more recently-developed countries such as the US and New Zealand about 200 years ago. It is still not too late to prevent further damage or to reverse that which has already occurred. During our brief stay in this life, we all have a role as guardians to ensure that soil can not only support our present needs but also "all the flowers of all the tomorrows."
Megan Balks has over 30 years of experience in soil-related study, research, and teaching. She is based at the University of Waikato in New Zealand and is the first woman to be honored as a fellow of the New Zealand Society of Soil Science. Darlene Zabowski worked as a research soil scientist for the US Forest Service before transferring to the University of Washington. She has conducted research on soils and taught introductory soils and advanced classes in soil science for 30 years.
Balks, M.R., Zabowski, D.
1st ed. 2016, XI, 243 p. 338 illus., 232 illus. in color
Hardcover $39.99, €39.99, £22.50 ISBN 978-3-319-32682-5
Also available as an eBook ISBN 978-3-319-32684-9
Journalists can request a review copy of the book Celebrating Soil